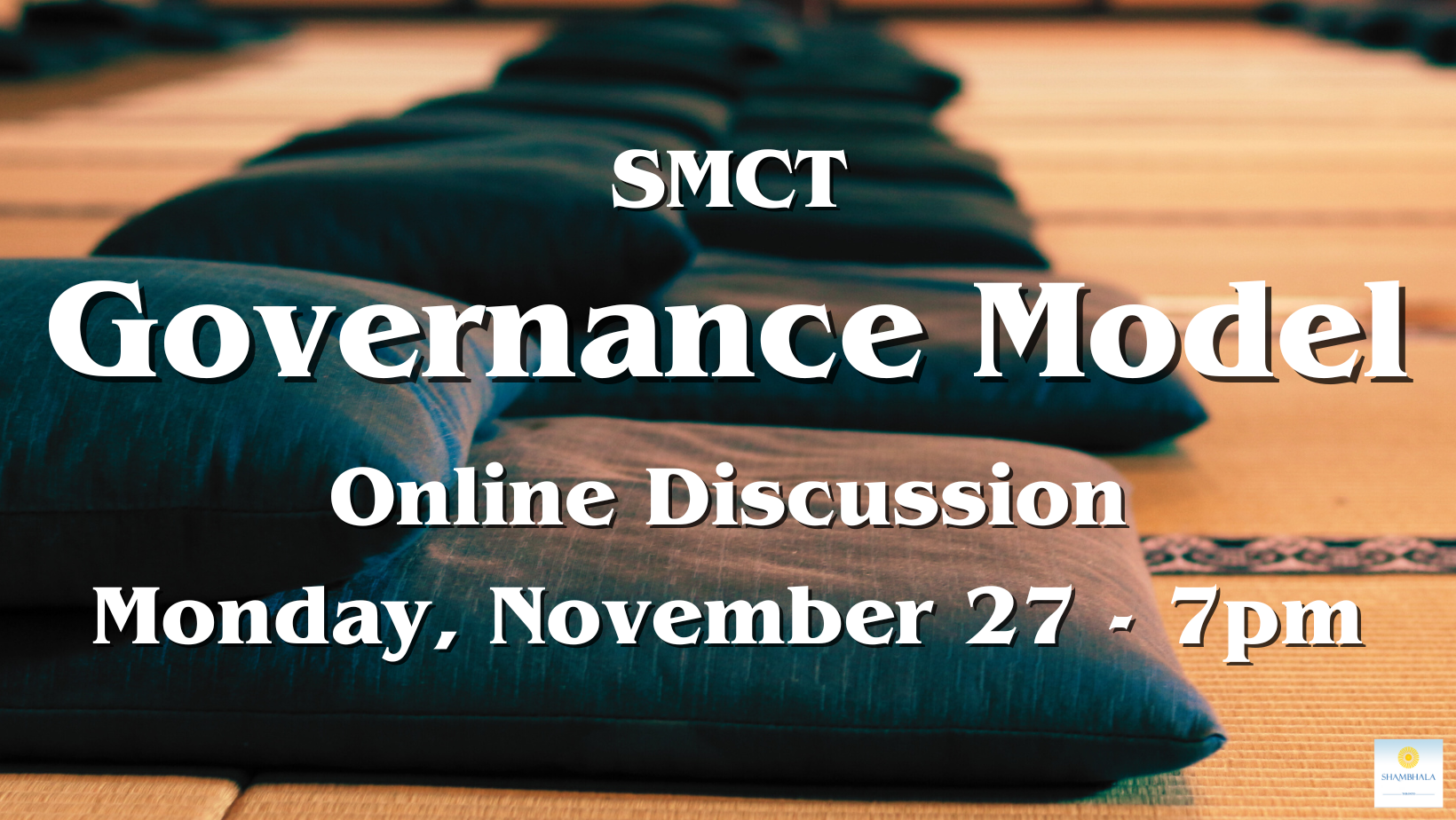 DATE:
Monday 27 November 2023 (19:00 -21:00)

Join us on Monday, November 27, at 7pm for an online discussion of our proposed governance model.
Please join us on Monday, November 27, from 7-9 pm for an online (zoom) discussion of our proposed governance model for the Toronto Shambhala Centre.
We would like to get your feedback on the model, and if it inspires you to take a role in the future of our community, this is an important time to express your interest and/or nominate others. Printed copies will be made available at the Centre for those not on our membership list.
Use this link to join the meeting on Noveember 27: https://us02web.zoom.us/j/85086448398
Meeting ID: 850 8644 8398
Password: wednesday
A bit of history:
A small group of members has been working on approaches to governance at SMCT since the spring of 2022, when Victoria Hagens stepped down from her extended term as Director. Changes in the global Shambhala organization after the Sakyong was no longer the spiritual leader of Shambhala left us in a transitional period, with Lee Inkster serving as interim director until September 1, 2023. She has extended her term until we can implement a new model and identify volunteers to fill key roles.
A small group has been working on a new governance model. We knew we needed one that would provide stability and continuity to rebuild trust in
the sangha. Of equal importance we felt the model had to clearly express the Shambhala vision of a wide umbrella encompassing all our members. Without including the several traditions and paths that are part of our sangha we would not be true to the Shambhala vision of gentle heart warriorship and enlightened society. We have endeavoured to create a model that shares responsibility, manifests a transparent decision-making process, and inspires leadership to rest their minds on the basic goodness of the community and move us forward into a secure and peaceful future.
We hope we have created a container that might hold all these aspirations – but the final part of this decision-making process belongs to the community. We ask you to support your Toronto Centre by volunteering in an area that reflects your skills and interests.