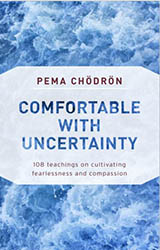 Comfortable with Uncertainty - Pema Chödron Reading Circle
Join us on all or any of these Wednesday evenings at 7:45pm for this online reading circle on Comfortable With Uncertainty by Pema Chödron.
In this book, Pema offers short, stand-alone readings designed to help us cultivate compassion and awareness amid the challenges of daily living.
The only book club with no advance reading required, and in fact no book! Everyone welcome to drop-in for any of these evenings.
--
--
This event is part of our regular Wednesday evening program which includes online group sitting from 7pm to 7:45 pm. Meditation instruction is also offered at 7pm.
Everyone welcome for any part or all of this Wednesday evening. Registration is not required.