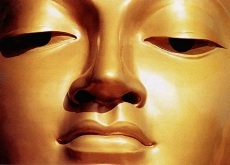 Bravery: The Living Buddha Within You - Reading Group
Tuesday evening reading and discussion of a chapter in Frank Berliner's most recent book, Bravery: The Living Buddha Within You, starting at 8:15pm. You need not own the book nor have read the chapter to attend.
Recently retired, Frank Berliner was an Associate Professor of Contemplative Psychology at Naropa University, where he taught Buddhist and Western Existential Psychology, and the practice of meditation, to BA and MA students since 1995.
This event is part of our regular Tuesday evening program which includes group sitting from 7pm to 8pm. Meditation instruction is also offered at 7pm.
Everyone is welcome for all or any part of this event.
This is a free event. Donations are welcome. For more information about the book, see an aritcle from Elephant Journal here