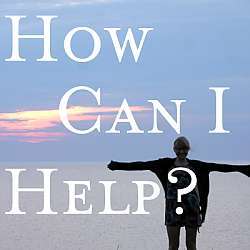 How Can I Help? The Basic Goodness of Society
with Shastri Jil Amadio
Spring Into a Fresh Start - Renew Your Purpose
In How Can I Help? - we will explore our relationships with others, our aspirations to help the world, and the four areas of social transformation that impact us all—household life, work life, entertainment, and economy. We learn the traditional Mahayana practice of "sending and taking" (tonglen), which supports our ability to change our relationships, enrich our leisure time and inspire our professional life. From this starting point one can discover what enlightened society may be.
Join us for an exploration of our potential in the world in the course called, How Can I Help?

How Can I Help?, is part of the path of training in the Way of Shambhala curriculum called, the Basic Goodness series. Meant for new and seasoned meditators alike, this series introduces the view of Basic Goodness experientially. This course includes talks, discussion, dialogue, and contemplations. It invites us into a genuine process of reflection and questioning.
Open to all and running two consecutive Sundays (March 8 & March 15) from 10am to 5pm. March 8th is open to all and is also the prerequisite for day 2 on March 15th.
$150 for both days or $100 for March 8 only.
About Shastri Amadio
Jil Amadio has been a student of Sakyong Mipham Rinpoche since 1989 and is a much-loved senior Shambhala teacher based at the Toronto Shambhala Meditation Centre. Known for her warm heart and keen insight, she provides support for teachers and meditation students. Jil served previously as Practice and Education Director in Toronto before being appointed Shastri, and is inspired to work towards creating regional unity while supporting the development of local leaders. Her career has been in communications, working in areas such as crisis and change management, corporate branding, and media skills training. She also sits on the board of an international NGO that works in child rights advocacy.
Registration
Please register for this program in advance by clicking on the "Register Now" link below. After filling out the online registration form, you will have the option of paying online through PayPal using your credit card or PayPal account. If you prefer not to pay online, you can pay by cash or cheque at the beginning of the program.

Note: If you cannot afford to pay the full program fee, see our generosity policy.