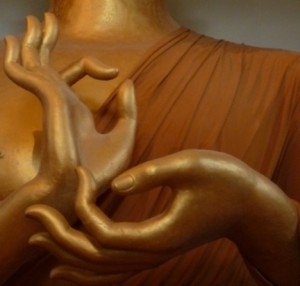 The Way of the Bodhisattva - Transforming Emotional Confusion, Maitri Five Wisdoms Workshop
with John McQuade
Maitri Five Wisdoms was first developed by Chogyam Trungpa, Rinpoche from traditional Tibetan Buddhist teachings for directly transforming emotional confusion into practical wisdom.
Each of us possess five energies or five aspects of buddha nature. Depending on how awake we are to our fundamental nature, the energies manifest as conflicting emotions or enlightened qualities containing tremendous insight, vigor and heart.
Through the practice of yogic postures in coloured environments, these energies are invoked. Opening to these energies - whether confused or clarified - allows us to develop confidence and a tender heart or maitri. Then these energies radiate as our natural creativity and authentic presence.
The presentation will include teachings and a demonstration of the practice. Open to all.
The Way of Bodhisattva Workshops
Join us for a monthly exploration of Buddhist Mahayana practices and teachings. The Way of the Bodhisattva Workshops are inspired by the treasured and skillful teaching of the Mahayana tradition (the great vehicle); a Buddhist philosophical branch that emphasizes universal compassion and the ultimate nature of reality. These teachings have been studied and practiced in an unbroken tradition for centuries, first in India, and later in Tibet.
Together we will explore practical instructions on how to free ourselves from suffering, while relating to the everyday experiences of our life. A bodhisattva is any person who is inspired to live a fully awake life, cultivating bravery, generating the qualities of kindness, resilience, compassion, generosity, and patience. Enter the journey of a Bodhisattva warrior, gaining the tools to transform both personal and societal worlds. No prerequisites and all are welcome!
Online Registration
Please register for this program in advance by clicking on the "Register Now" link below. After filling out the online registration form, you will have the option of paying online through PayPal using your credit card or PayPal account. If you prefer not to pay online, you can pay by cash or cheque at the beginning of the program.