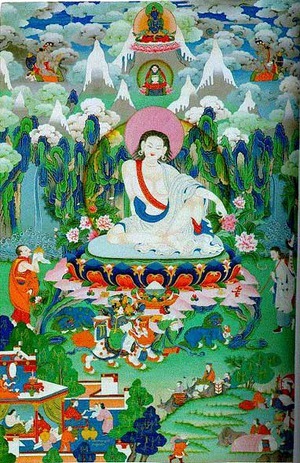 Milarepa Day
Milarepa Day is a celebration of the enlightenment and life example of Milarepa, one of Tibet's most famous yogi saints. The celebration involves a full day of practice, including chanting the Milarepa sadhana and reading the songs of the lineage teachers in The Rain of Wisdom.
Many generations of practitioners have found these songs inspiring as they are stories of how to turn adverse conditions into a support for our practice. At times hilarious, the stories are delightful to read and full of practical advice for the student of meditation then and now.
Practice sessions are between 1.5 and 2 hours followed by tea brakes and we will have lunch and dinner at the centre. You could bring your own food or order take-out food. We will serve the traditional Chai tea to keep our voices smooth.
The celebration will take place on Sunday March 8 from 9 am to approximately 9 pm. Participants are encouraged to come for the whole day, but you can come for parts of the day.
Please bring a copy of the Rain of Wisdom if you can. We also have some copies for sale in the bookstore.
Schedule
9:00-9:20 Morning Chants and Sitting
9:20-9:35 Instructions
9:35-11:00 Chant Glorious Flame of Wisdom, from page 1 to middle of page 17 then begin reading The Rain of Wisdom.
11:00-11:15 Silent Tea Break
11:15-1:15 Continue The Rain of Wisdom
1:15-2:15 Lunch Break
2:15-4:15 Continue The Rain of Wisdom
4:15-4:30 Silent Tea Break
4:30-6:20 Continue The Rain of Wisdom
6:20-6:30 Protector Chants
6:30-7:30 Dinner Break
7:30 - Finish reading The Rain of Wisdom and The Glorious Flame of Wisdom; end by chanting the longevity and rebirth supplications, and Fulfilling the Aspirations.
Everyone welcome.
Please register for this program in advance by clicking on the "Register Now" link below so we know how many to expect.