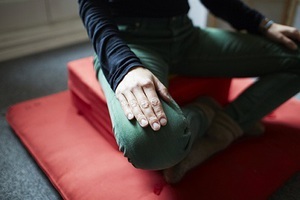 One Day Silent Meditation Retreat: Alone/Together
with Donald Eckler
The Toronto Shambhala Centre is hosting a silent day of sitting and walking meditation. While spending hours in silence may seem daunting to some, these retreats can be a welcome respite and a great way to foster stillness in the rush of everyday life.
The day will include meditation instruction and guidance in an atmosphere of "functional silence." No experience is necessary. The initial orientation session will provide an opportunity to ask any questions you may have and to explore various ways to sit comfortably using a chair, cushion, etc.
The meditation retreat will include a vegetarian lunch, healthy snacks, and breaks.
In order to help us to address the distractions of electronic communication, we suggest that participants leave their cell phones at home or turn them off during the day long retreat.
Registration is limited to 25 people. Please register online.
If you have any questions about the One Day Meditation Retreat, please contact Donald Eckler at [email protected].
Registration
Please register for this program in advance by clicking on the "Register Now" link below. After filling out the online registration form, you will have the option of paying online through PayPal using your credit card or PayPal account. If you prefer not to pay online, you can pay by cash or cheque at the beginning of the program.

Note: If you cannot afford to pay the full program fee, see our generosity policy.