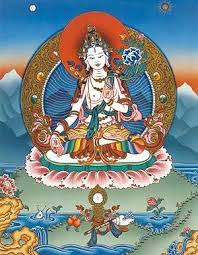 Short Healing Practices for Difficult Times
Join us for weekly, short practice sessions of White Tara and Medicine Buddha mantra recitation.
During times of great fear our innate goodness, warmth, and health can easily become covered over by doubt, fear, and anger. Turning to practice in these times helps strengthen our body, heart and mind.
Both White Tara and Medicine Buddha practices are traditional Tibetan bodhisattva compassion practices used during times when personal and communal health is threatened. White Tara is the famed female Buddha who embodies the energies of healing, compassion and tranquility. The Medicine Buddha is the embodiment of the capacity of all the Buddhas to heal both body and mind. Chanting the mantras of White Tara and the Medicine Buddha is said help heal sickness, soothe fear and suffering, and extend lives.
You are welcome to offer the name of anyone you know who may be suffering, so we can include them in our practice. To be included in the practice session, names can be emailed to [email protected] prior to the session, with the subject line: Names for Healing Practices. Please also include the illness that person is suffering from. If ill person prefers for their illness to stay confidential, you can write name - anonymous, and include just the illness of an individual, physical or mental.
These practice sessions have no pre-requisites and are open to any practitioner.
Join the Zoom Meeting
https://us02web.zoom.us/j/88420672687
Meeting ID: 884 2067 2687
Password: healing
To connect by phone:
Please dial
+1-647-558-0588 Canada
Meeting ID: 884 2067 2687
Password: 277921
Find your local number: https://zoom.us/u/ab59jx6op4
Visit the Zoom website for information about the Zoom video conferencing system.