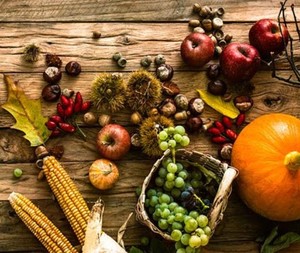 Harvest of Peace
Please join us for the annual Harvest of Peace Celebration on Saturday, September 19 at the Dufferin Grove Park in Toronto. This is a special moment because it will be the first official gathering the Toronto Shambhala Centre has hosted since the covid shutdowns began.
Harvest of Peace is one of four seasonal Nyida Days ("Nyi" = Sun, "da" = Moon) celebrations in Shambhala that occur on or around solstice and equinox days. These holidays are important times for us to join together as a community to practice, celebrate and enjoy each other's company. Harvest of Peace is a traditional celebration to appreciate abundance and the change of seasons.
We will begin the celebrations with a traditional Lhasung, which is a smoke offering to invite the dralas to our gathering and to support our practice and life. Following that we'll have open time for people to relax and share and enjoy. Due to covid restrictions we will not be able to share food, but we can each bring our own food to enjoy. If you'd like to play frisbee or toss a ball or do some yoga, please bring your gear, as you wish.
Regarding Covid Safety: Please bring a mask or face covering. The recommended social distancing of 6 ft will be in place for the event.
***NEW***
Please RSVP

Please RSVP by registering below so we can ensure that there will be less than 25 participants as required by the recently updated COVID-19 regulations. When you register, please indicate in the comments field whether you will be attending in person or joining us online.
Online Lhasung
If you would like to join us online visit us on Zoom at 2:45pm for the lhasung.
Join Zoom Meeting
https://us02web.zoom.us/j/82226306822

Meeting ID: 822 2630 6822
Passcode: harvest

Dial by phone:

+1 647 558 0588 Canada

Meeting ID: 822 2630 6822
Passcode: 7609509
Find your local number: https://us02web.zoom.us/u/kcV2oyfpDU
***
Location
Dufferin Grove Park. We will gather at the Fire Pit just south of the skating rink.
Parking
There is parking in the neighborhood north of the park.
Further Details
*Rain or Shine! We have access to an indoor space at the park where we can wait out the rain if necessary.
**If you can't find us, please call or text 416-471-3819 and someone will be there to help you.
Everyone welcome!
Celebrating Generosity
Harvest of Peace often includes a celebration of generosity, such as local fundraising campaigns. This year, we encourage members to make donations to your local food bank, or the Daily Bread Food Bank of Toronto, to help with addressing the food insecurity that so many are facing. There has been a 200% increase in people accessing food banks in Toronto during this pandemic, and it would be wonderful if we could show our support as a community. Thank-you so much for anything you are able to offer! (Please note your donation in this google doc - no name required - so that we can keep track of our donations.)