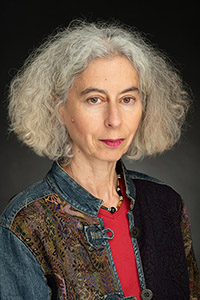 The Magical Practice of Meeting our Lives
with Ellen Mains
Bringing Shambhala or Buddhist practice into the real world or into relationship with our family of origin can seem daunting at times. Join Ellen Korman Mains for a talk and discussion of the Shambhala teachings that inspired her to explore her family's Holocaust history and which came further alive during her journeys to Poland.
This program is offered online, using Zoom video conferencing.
About Ellen Korman Mains
Ellen has been a senior teacher in the Shambhala community for over four decades and a long-time student of body-mind disciplines including Kyudo which she taught at Naropa University and internationally.
As a Focusing Professional, she guides individuals addressing challenging issues using Inner Relationship Focusing.
Her award-winning book is "Buried Rivers: A Spiritual Journey into the Holocaust."
On Saturday October 31, Ellen will be leading a four-hour, online workshop, Ancestral Drala and the Primordial Heart, further exploring the theme of our relationship with our ancestors.
Registration
Please register for this program by clicking on the "Register Now" button below. Please register at least one hour in advance to allow for processing of your registration. Once you register, the Zoom link is sent out the day before or on the day of the program.
Note: If you cannot afford to pay the full program fee, see our generosity policy.