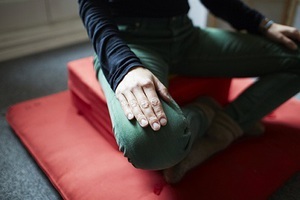 Anxiety Easing: Rediscovering Your Source - Online
with Craig Mollins
A major cause of anxiety is that we lose our connection with the ordinary goodness of life. We become speedy and stressed and we forget how to simply relax and enjoy. We also lose touch with our ability to actually get back in touch. But we are not as far off as we might think. By learning to gently be with our thoughts, feelings, and emotions, our experience of anxiety can shift and gradually transform.
The presentation will include a guided meditation and opportunity to share with the group.
About Craig Mollins
Craig has been a student in the Shambhala tradition since 1980, and is a meditation instructor and Shambhala Training director. He works as a Certified Health and Wellness Coach specializing in anxiety. Craig grew up with Tourette Syndrome and throughout his life experienced varying forms and degrees of anxiety. Through years of exploration and research he gradually found relief from chronic anxiety.
Join the Zoom Meeting
https://us02web.zoom.us/j/85086448398
Meeting ID: 850 8644 8398
Password: wednesday
To connect by phone:
Please dial
+1-647-558-0588 Canada
Meeting ID: 850 8644 8398
Password: 156002
Find your local number: https://zoom.us/u/ab59jx6op4
Visit the Zoom website for information about the Zoom video conferencing system.
Everyone welcome.