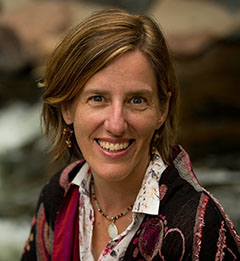 The Life and Liberation of Yeshe Tsogyal
with Holly Gayley
Yeshe Tsogyal is the most celebrated woman in Tibetan Buddhism. Born into privilege as a princess, she left it all behind to practice austerity under the guidance of none other than Padmasambhava, the renowned eighth-century Indian tantric master. A gutsy female exemplar, Yeshe Tsogyal surmounted various obstacles along her journey to enlightenment, including warding off hunger, converting thieves, withstanding the arrows of those who mistook her for a witch, and practicing unperturbed despite inclement weather and other challenges along the way. She also plays a key role in the terma tradition as the disciple who recorded Padmasambhava's teachings and hid them throughout the Tibetan and Himalayan landscape. According to her biographies, Yeshe Tsogyal promised to emanate in each generation, and she continues to serve as an ongoing presence in visionary experience and liturgies that supplicate her.
This talk explores two quite different portraits of Yeshe Tsogyal's life and liberation, translated in Lady of the Lotus-Born (2002) and The Life and Visions of Yeshe Tsogyal (2017). These divergent biographies suggest radically different perspectives on courage, resilience, and devotion on the Vajrayana path, while unequivocally affirming the transformative potential for enlightenment in a female body.
Read more at The Lion's Roar magazine.
About Holly Gayley
Holly Gayley is a scholar and translator of Buddhist literature in contemporary Tibet and Associate Professor in the Department of Religious Studies at the University of Colorado Boulder. Her research areas include gender and sexuality in Buddhist tantra, ethical reform in contemporary Tibet, and theorizing translation, both literary and cultural, in the transmission of Buddhist teachings to North America. Her most recent book is Inseparable Across Lifetimes: The Lives and Love Letters of Namtrul Rinpoche and Khandro Tāre Lhamo (2019). For almost two decades, she has regularly led meditation workshops and retreats and serves as a senior teacher in the Shambhala tradition.
Online Registration
Please register for this program by clicking on the "Register Now" button below. Please register at least one hour in advance to allow for processing of your registration. Once you register, the Zoom link is sent out the day before or on the day of the program.

Note: If you cannot afford to pay the full program fee, see our generosity policy.