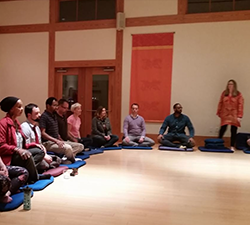 Social Meditation Workshop
with Nicholas Kranz
Social Meditation turns social interaction into a meditation practice. As human beings, we're wired for social interaction. Social Meditation utilizes this innate connectedness to strengthen our ability to remain in the present moment.
Social Meditation facilitates emotional resonance in groups, helping practitioners connect with their own and the group's wisdom. This generates a culture of care that is a powerful support for individual practice, and a feeling of belonging and learning within community that makes the meditation journey more joyful, meaningful, and sustainable.
We will practice sitting meditation and social meditation, there will be dialog and talks, we will be working with our social patterns in a transformative way. Everyone is welcome. No previous experience required!
About Nick Kranz
Nick Kranz is an experienced and dynamic meditation teacher with a passion for sharing authentic wisdom. He's interested in social innovation, cultural transformation, and collaborative business that positively impacts society.
He has studied under Khenpo Tsultrim Gyamtso Rinpoche, Khandro Rinpoche, Sakyong Mipham Rinpoche, Mingyur Rinpoche, Ato Rinpoche and many other great Tibetan Lamas. Nick is the founder of the practice of social meditation, which is practiced around the globe. He has trained hundreds of leaders using this form of practice.
Registration
Please register for this program by clicking on the "Register Now" button below. Please register at least one hour in advance to allow for processing of your registration. Once you register, the Zoom link is sent out the day before or on the day of the program.

Note: If you cannot afford to pay the full program fee, see our generosity policy.