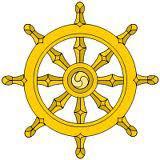 The Four Dharmas of Gampopa
with Stanley Fefferman & Dr. Joe Lukezich
The Four Dharmas of Gampopa is an onlline workshop on going beyond our insecurities and confusion towards the discovery of our basic goodness and innate wisdom.
The essential teachings of the buddhist path as transmitted through the Kagyu, or Practice Lineage of Tibet, were compressed into a four-line stanza by the lineage holder Gampopa (1071-1153). In this workshop, we unpack that stanza so that meditation practice could reveal our basic goodness and innate wisdom. Open to all.
There is a sourcebook available at Kalapa Media. The sourcebook is optional, but highly recommended. You do not need the sourcebook to attend the class. However, studying it will greatly enhance your understanding.
You can read more about the Four Dharmas of Gampopa on the Shambhala Times.
About the teachers
Stanley Fefferman met the Vidyadhara Chogyam Trungpa, Rinpoche in 1975. He worked closely with the Vidyadhara in Boulder. He also taught Poetics at Naropa University before returning to Toronto in the early 80's where he served as director of the Nalanda Foundation activities and as President of the Buddhist Council of Canada. He is Professor Emeritus in English at York University.
Joe Lukezich first met Chogyam Trungpa Rinpoche in 1971 and was a founding member of the Toronto Shambhala Center when it was established in 1972.
Note: All times are EST.
Registration
To register, click the "Register Now" button below. Please register at least 1 hour prior to the start of the program to allow for processing of your registration. After filling out the online registration form, you can pay through PayPal using your credit card or PayPal account. Once you register, the Zoom link is sent out the day before or on the day of the program.
Note: If you cannot afford to pay the full program fee, see our generosity policy.