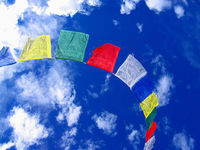 Sangha: The Third Jewel - Online Community Meeting
Sangha: The Third Jewel
(or…. I wish there were only two jewels because the Buddha is very cool and I see that his teachings, the dharma is worth listening to, but the Sangha, the community, sort of drives me crazy.)
Join us for this online meeting about community and sangha facilitated by senior Shambhala teacher, Donald Eckler.
What does the Sangha mean? What does community mean? Do you feel part of a community of practitioners? As Margaret Wheatley states, "There's no power for greater change than a community discovering what it cares about." What do you care about and does this resonate with the "Shambhala view?"
There are no real concrete answers to these questions but it's worth contemplating whether we can be with uncertainty and not knowing.
We'll begin the morning with introductions andmeditation practice, have a brief presentation and then share in discussion (possible dyads), as we explore the idea of Sangha and how to be in Sangha in a time of real chaos.
Everyone welcome.
About Donald Eckler
Donald Eckler, a senior Shambhala teacher and meditation instructor, teaches regular programs as well as yearly seven-day retreats. He leads weekly mindfulness classes for Mental Health inpatients at St. Joseph's Hospital and for faculty and staff at Ryerson University. As a teacher for the Centre for Mindfulness in Public Safety, he facilitated a mindfulness-based wellness program for correctional officers at the Elgin-Middlesex maximum security facility. Donald has trained in end of life care and he offers ongoing spousal-loss programs for Bereaved Families of Ontario. Over the past thirty years he has presented mindfulness programs at schools, universities, YMCA's, community groups, and symposiums.
For 37 years he was a teacher with the Toronto District School Board where he taught emotionally vulnerable children. He was responsible for designing and introducing the first class in the TDSB to integrate these sensitive, yet inherently good students into regular classrooms.
Registration is not required. Donations are always welcome.
Join Zoom Meeting
https://us02web.zoom.us/j/83783617262
Meeting ID: 837 8361 7262
Passcode: community
Dial by phone:
+1 647 558 0588 Canada
+1 647 374 4685 Canada
Meeting ID: 837 8361 7262
Passcode: 150651571
Find your local number: https://us02web.zoom.us/u/kqC3sQkMD