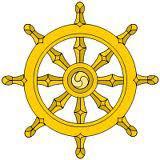 Four Foundations of Mindfulness - Saturday Morning Workshop
with Dr. Joe Lukezich & Stanley Fefferman
Mindfulness is the foundation stone of Buddhist practice, common to all traditions and sects. The teaching of Buddha as expressed in the Sattipatthana Sutta is the crown jewel, the inspiration from which that practice has arisen.
In this workshop, we explore the oral transmission concerning mind and the foundation of mindfulness as it was received by the Vidyadhara Chögyam Trungpa Rinpoche.
This particular teaching opens the way of mindfulness by showing the essence of each of the four foundations, the inner key to its practice.
Please register for this program by clicking on the "Register Now" button below. Please register at least one hour in advance to allow for processing of your registration.

Once you register, the Zoom link is sent out the day before or on the day of the program.