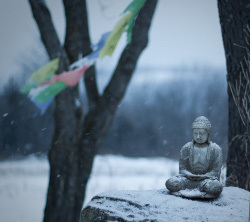 Living Beautifully with Uncertainty and Change: Winter Holiday Retreat In Person
with Donald Eckler
Please note, the in-person registration is now at full capacity. You are welcome to register for online participation.
For this Winter Holiday Retreat join us either in-person at the Shambhala Meditation Centre or online over Zoom.
If you plan to attend in person, please register on this page. If you plan to join online, please click here.
There is limited capacity for in-person attendance (10 participants maximum). Please review the Centre's COVID-19 guidelines for visitors and reserve your spot at the Centre by pre-registering.
This seven half days retreat, also referred to as a weekthün in the Shambhala Buddhist tradition, is an in-depth meditation retreat. It is a powerful introduction to and deepening of mindfulness-awareness meditation -- a technique that transforms how we relate to ourselves and everyday life.

"Living Beautifully with Uncertainty and Change" is founded on the Shambhala principle that everyone, at their core, is worthy and complete. From this point of view, meditation is not so much a tool to fix ourselves or improve our abilities, but a powerful way to connect with the inherent goodness and wisdom within our present experience.
The daily meditation practice and routine of the retreat supports our journey of gently making friends with who we are and giving rise to our inherent fearlessness. The design of this program creates an atmosphere in which we can trust in the experience of truly feeling ourselves, the natural world, and human society.

This retreat is a "city retreat" and takes place at the Shambhala Meditation Centre of Toronto as well as Online over Zoom platform. Practice includes:
Sitting and walking meditation
Meditation instruction
Talks/Discussions
Study periods
Silence practice
This retreat is open to everyone from beginning meditators to experienced practitioners.
Note
For this particular program, we will be accommodating individuals who are sensitive to electromagnetic emissions by asking all participants to power-off personal electronic devices while at the Centre, or else leave your devices at home (including phones, fitness trackers, etc.). The Centre telephone will be monitored at all times and participants are welcome to provide the phone number to anyone who may need to reach them during the program.
Participation
This is a seven day retreat and the in-person program is limited to fifteen participants. Because of this, participants should sign up for the entire retreat. If there is space, it may be possible for you to attend fewer than seven days.
Please contact Gail Porter at [email protected] if you wish to come for less than seven days or if you have any questions. Please do not register online if you wish to do a partial retreat.
Price
Full retreat $200/$240 patron price
Partial attendance $30 per day/$35 patron price (for this option choose pay what you can and add the cost for the number of days you plan to attend)
About Donald Eckler
Donald Eckler is a senior teacher and mindfulness instructor at the Toronto Shambhala Meditation Centre where he teaches regular programs as well as yearly seven-day retreats. He leads weekly mindfulness classes for the Adult Mental Health Care Unit at St. Joseph's Hospital and for faculty and staff at Ryerson University. In early 2019, as a teacher for the Centre for Mindfulness in Public Safety, he facilitated a mindfulness-based wellness program for correctional officers at the Elgin-Middlesex maximum security facility. Donald has trained in end of life care and he offers ongoing spousal-loss programs for Bereaved Families of Ontario. Over the past thirty years he has presented mindfulness programs at schools, universities, YMCA's, community groups, and symposiums.
For 37 years he was a teacher with the Toronto District School Board where he taught emotionally vulnerable children. He was responsible for designing and introducing the first class in the TDSB to integrate these sensitive, yet inherently good students into regular classrooms.
Registration
Please register at least a day in advance to allow enough time to process your registration and to receive the Zoom link. Last minute registrations might not receive access to the program on time.
This registration is for in-person participants only. To attend online click here.