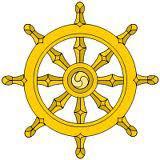 Anata - A Saturday Morning Talk on Egolessness - Online
On this Saturday morning we will meet to listen and discuss a recorded talk by Acharya Fleet Maull on the topic of "Anata" or egolessness.
In this recorded talk, Acharya Maull describes how through meditation and insight we can slowly loosen our grip on the solid fixed sense of self. Meditation instruction will be presented as well.
We will discuss the relationship between ego-clinging and suffering. As well, we will discuss how relaxing the grip on self-referential thinking opens the possibly for experiencing more relief, peace and joy. Please note, Acharya Fleet Maull will not be present for the discussion.
Everyone welcome. Starts at 10 am Eastern time.
(Note: this event was originally schedule for July24 and has been moved to its current date.)
Please register for this program by clicking on the "Register Now" button below. Please register at least a day in advance to allow enough time to process your registration and to receive the Zoom link. Last minute registrations might not receive access to the program. Once you register, the Zoom link is sent out the day before or on the day of the program.