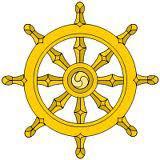 Insight Meditation Workshop - Saturday Morning Online
with Stanley Fefferman & Dr. Joe Lukezich
In this workshop, we explore how insight into the nature of mind develops out of basic mindfulness-awareness meditation practice. The morning will include meditation instruction, sitting and walking meditation practice, talks, and discussion.
Everyone welcome. Starts at 9:30 am Eastern time.
Please register for this program by clicking on the "Register Now" button below. Please register at least a day in advance to allow enough time to process your registration and to receive the Zoom link. Last minute registrations might not receive access to the program. Once you register, the Zoom link is sent out the day before or on the day of the program.