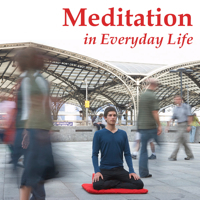 Meditation in Everyday Life: Sunday Evenings Online
with Donald Eckler, Ann-Jean Lennox, Sean Rockarts
Meditation in Everyday Life is a five-week course that teaches mindfulness meditation and shows us how this practice can improve our daily lives in the most practical sense.
We experience what happens when we stop avoiding ourselves and the present moment and practice simply being with whatever is going on in our lives. We learn to cultivate courage and stability in the daily complexities of jobs, responsibilities, relationships, and the everyday desires, concerns and uncertainties we all face.
The program includes meditation instruction, talks, periods of meditation practice, discussion, and a variety of contemplative practice activities. It is offered online, using Zoom video conferencing.
Prerequisites: none. Everyone welcome
Note: If you cannot afford to pay the full program fee, see our generosity policy.
Online Registration: Please register for this program by clicking on the "Register Now" button below. Please register at least one hour in advance to allow for processing of your registration. Once you register, the Zoom link is sent out the day before or on the day of the program.