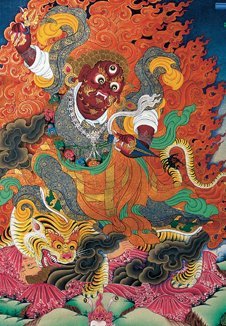 Sadhana of Mahamudra - Online
The Sadhana of Mahamudra is a group practice that involves chanting of a text to invoke the presence of our lineage. Awareness of the lineage produces warmth that helps us to be skilful in benefiting others. It is scheduled on Full and New Moon days because those are times of transition when emotions tend to be volatile and practice can be particularly helpful.
The sadhana is a terma (Hidden Treasure) teaching of Padmasambhava revealed by Trungpa Rinpoche to guide us in the current Dark Age. The text brings together the Kagyü mahamudra tradition that uses obstacles as support in our practice and the crazy wisdom of the Nyingma ati tradition that does not shy away from helping others in unconventional ways.
Anyone is welcome to join. No prerequisites needed. If you would like to attend, please email [email protected] to receive the Zoom link.
For more information on the Sadhana of Mahamudra please visit the Chronicle Project.