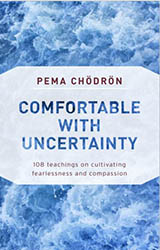 Comfortable with Uncertainty - Pema Chödron Reading Circle - Online or In-person
with Donald Eckler
This week join us either in-person at the Shambhala Meditation Centre or online for this lightly guided meditation session.
There is limited capacity for in-person attendance; please review the Centre's COVID-19 guidelines for visitors and reserve your spot at the Centre by pre-registering for the session (no cost).
Online participants can join using the Zoom link, below. Pre-registration is not required for online participation.
In this book, Pema offers short, stand-alone readings designed to help us cultivate compassion and awareness amid the challenges of daily living.
The only book club with no advance reading required, and in fact no book! Everyone welcome to drop-in for any of these evenings.
Visit the Zoom website for information about the Zoom video conferencing system.
Everyone welcome.
Zoom Guidelines
If you are participating online, see our Zoom Guidelines for Participants of Online Events.
Donations
If you would like to help the Shambhala Centre with a financial donation, visit our donation page.
Pre-Registration
If you want to attend this session in-person at the Shambhala Meditation Centre, you must register in advance. Maximum 15 participants allowed.