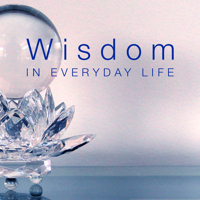 Online Wisdom in Everyday Life: Tuesday Mornings
The final course in the Way of Shambhala series.
Meditation uncovers our wisdom. This wisdom is always present, and can be applied to transform confused situations and emotions into effective actions. No longer deterred or depressed by obstacles, we can include everything as part of the path. The challenges of daily life become opportunities for both contemplative practice and social action.

This course looks at the qualities of a master warrior whose vastness of mind and skills in enriching the world are fully manifested. Here the practitioner is introduced to the vajrayana teachings of Buddhism, which reveal the sacredness of the phenomenal world.

Students will receive essential instructions for transforming confused emotions and situations into wisdom as they arise. The master warrior is no longer deterred or depressed by obstacles, but with tremendous forward vision and strength, playfully includes everything as part of the path. In this way, the warrior is able to skillfully benefit the world.

Pre-requisite: Fearlessness in Everyday Life.
Registration

Please register for this program in advance by clicking on the "Click here to register" link below. After filling out the online registration form, you will have the option of paying online through PayPal using your credit card or PayPal account. If you prefer not to pay online, you can pay by cash or cheque at the beginning of the program.

Note: If you cannot afford to pay the full program fee, see our generosity policy.