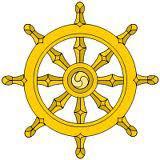 The Joyful Snow Lion and the Paramitas: Thursday Evenings
Join us as we watch and discuss this series of recorded talks by senior Shambhala teachers on relative bodhicitta and the paramitas.
Everyone welcome.
Part of the Shambhala Online course Year of Deepening Compassion Part II, this program explores the Shambhala Buddhist teachings of relative bodhicitta and how we put our aspiration to help others into action with the practice of the Paramitas.
Generosity is with Acharya Marty Janowitz.
Discipline is with Acharya Emily Bower.
Patience is with Acharya Suzann Duquette.
Exertion is with Acharya Moh Hardin.
Dhyana: Meditation is with Acharya John Rockwell.
Everyone welcome.
Suggested donation per class: $10 to $20.