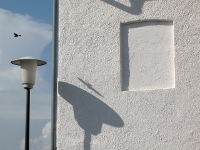 Orderly Chaos: Contemplative Photography, Level III - Sunday Mid-Day
with John McQuade
This program is sold out. If you're interested, please register for other offerings of this program available at different times as listed on our Programs page.

The visual world manifests as it is: nothing added, nothing subtracted. This course explores the Orderly Chaos of freefall perception.
Nalanda Miksang (www.miksang.org) is based, in part, on a Chogyam Trungpa teaching: "The Three Levels of Perception." This course orients from this "Third Level" and considers his teachings on Zen and Tantra.
Also this course opens up an exploration of Modern American artists. See www.absoluteye.org
Prerequisite: Looking and Seeing: An Introduction to Contemplative Photography
For more information www.miksang.org and www.Absoluteeye.org or John McQuade at [email protected] com
Registration
Please register for this program by clicking on the "Register Now" button below. Please register at least one hour in advance to allow for processing of your registration. Once you register, the Zoom link is sent out the day before or on the day of the program.
Note: If you cannot afford to pay the full program fee, see our generosity policy.